ERP- Yearly Cloud Hosting Package
Managed Cloud Server Hosting
Fast - Reliable - Safe - Cheap - Scalable

Write one or two paragraphs describing your product or services.
To be successful your content needs to be useful to your readers.
ClicktoHub cooperates with the best cloud service providers to make sure your ERP is accessible anytime, from anywhere.
Google Cloud
One of the top players in the cloud world, with reasonably priced servers in Asia, Europe, Australia & the Americas.







OVHcloud
Budget-friendly hosting provider with data centers in Europe, Asia, the Americas & Australia.
CMC Cloud
Reliable cloud hosting provider with new & well maintained in US, Canada, Mumbai, Bahrain.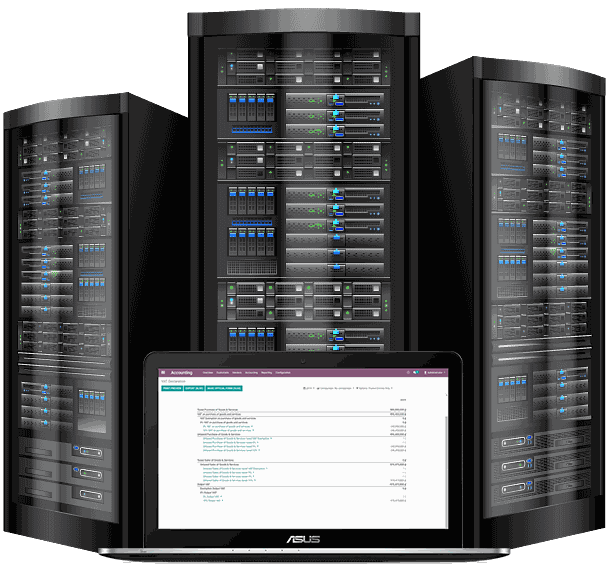 ACCESS YOUR ERP ANYTIME, FROM ANYWHERE
One of the main advantages of hosting your ERP in cloud is having access to your data & reports whether you are home, in the office, on holiday or on a business trip.
UPGRADE YOUR HARDWARE IN A FEW MINUTES
You need a stronger server? You need more users and your RAM is not sufficient anymore? Upgrading your CPU, RAM or SSD has never been simpler.
NO NEED TO MAINTAIN THE HARDWARE
One of the most time consuming & costly aspects of having your own server is the maintenance. With cloud, this is 100% taken care of!
Server maintenance, monitoring & regular back-ups.
We take care of all security measures & let you focus on your core business.
FAQs ABOUT CLOUD HOSTING OF ODOO ERP
How do we know how powerful a hardware we need for running our Odoo?
There are several aspects which you need to take into consideration, while estimating the needed HW for your hosting. 
You should be able to answer these basic questions:
How many concurrent users will be accessing your Odoo? Concurrent users = internal Odoo users accessing your Odoo at the same time.

What is your scope of operations?  Will you run a website or an e-shop? How many visitors do you expect daily, how many orders will you receive daily

Are there any potentially heavy customization or integrations with a 3rd party software?
In general, the minimum needed configuration for your Odoo (up to 10 concurrent users) is 2 CPU, 4 GB RAM & 40 GB SSD.
Which cloud provider should we choose?
Again, there is not a universal answer for this, as it depends on a lot of criteria:
Where is your company located?

In case you have a website running on Odoo, which markets (countries) are you targeting?

What is your budget for the server hosting?

Are you able to pay your hosting yearly, or you wish to pay lower amounts more frequently?
In any case, our server team is ready to discuss with you the most suitable server hosting solution for your business..  Feel free to contact our team.